Project Description
Andrew Wilmot
is a writer, editor, and artist living in Toronto, Canada. He holds a BFA in Fine Arts and a Master of Publishing from Simon Fraser University, and spends his days writing as much as possible and painting stupidly large pieces. His fiction has been published by Found Press, 69 Flavors of Paranoia, Drive In Tales, and The Singularity, and the story
When I'm Old, When I'm Grey
, was the winner of the 2015 Friends of Merril Short Fiction Competition. His first mini-collection of speculative and weird fiction,
Absolutely Nothing Out of the Ordinary
, will be published by
Found Press
in Spring 2016. His first novel,
The Death Scene Artist
, has been acquired by Wolsak & Wynn and will be released in Fall 2018, under their Buckrider Books imprint. He works as a freelance book reviewer, academic editor, and substantive editor for several independent presses.
For more on his work and creative pursuit check out his professional profile page and his blog.
His short story in our Apocalypse Chronicles anthology, Everything Old, first appeared in September 2015 on The Singularity and has been reprinted with permission from the publisher.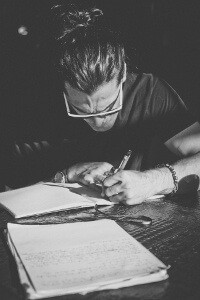 Ash, fear, moments of reconciliation; darkness, hope, moments of regret. What will the Apocalypse bring for you?
Apocalypse Chronicles brings together stories, memories, and endings. Woven together by their collective experience, each tale offers a unique and harrowing understanding of what the Apocalypse will mean for their world. Families, worlds, futures and pasts are explored in this unique anthology that brings together fiction from authors from across the globe.
Bear witness to the end of the world as you know it; but will you know how it will end?
We invite you to read and hope you enjoy this collection.